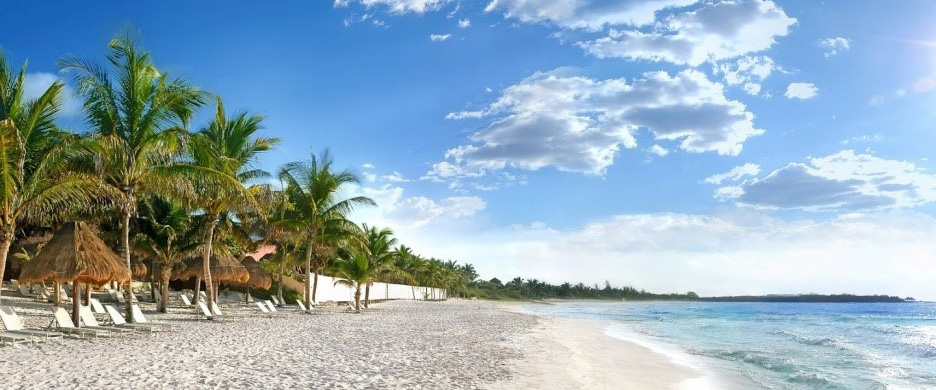 Tulum is a small resort town on the Yucatán peninsula in Mexico. Although the town of Tulum is small, it has a rich history. It was one of the last cities to be inhabited by Maya after the Spanish exploration began. Mayan ruins sit on 40 ft. cliffs overlooking the blue water of the Caribbean sea. Tulum was the only Mayan city to be built on the coast, and one of the few boasting a wall. Make sure to bring a swim suit when visiting, because steps lead from the ruins down to a white-sand beach, where there's plenty of room to swim or relax in the sun.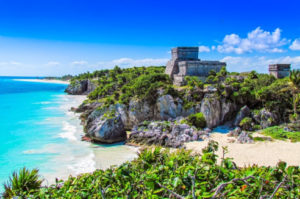 In the morning, the ruins offer an amazing view of the sunrise of the Caribbean Sea. The area is less developed than the nearby resort cities, so everything is a more relaxed pace and less crowded. Every accommodation from all-inclusive resorts to beach-side cabanas is available. However, Tulum is also close to Cancun and Riviera Maya, if a day trip is all you are looking for.
The beaches have been rated some of the best in the world and it's a great place for newlyweds or families. The area offers swimming with dolphins, amazing snorkeling in caves in Cenote Dos Ojos, and whatever fun you can imagine including: kite surfing, diving, and an annual sPic 3ports festival. There are markets for shopping or eating and the Tulum pueblo and beaches have restaurants and cafes for any appetite. The area boasts more cenotes than Dos Ojos as well. Tulum also offers relaxation in a Mayan spa, which uses holistic treatments from the Maya.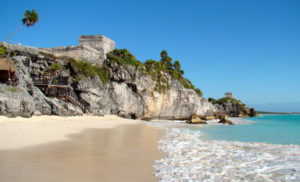 The Coba ruins are only 30 minutes from Tulum. Although they are not in as pristine condition as the Tulum ruins, they feature El Castillo, one of the tallest Mayan structures, which offers spectacular views of the surrounding jungle. The Sian Ka'an Biosphere is also nearby, and has acres of mangrove swamps and wetlands, which can be explored by boat.
Tulum is different than your usual Mexican adventure.