Ok, so maybe you have already done the "All-Inclusive thing".  You may be thinking, how can this resort group be so different?  I get it.  I thought the same thing.  Then I stayed there.  Trust me on this, different is just the beginning.  If you haven't stayed at a Hard Rock All Inclusive, you have missed out on an unforgettable experience.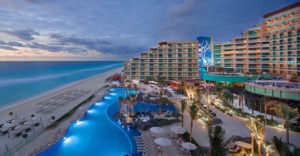 The Hard Rock is not to be compared to any other All-Inclusive brand.  It's not just for musicians, old-time rockers and the like.  If you love music, love to have great options of everything from putting your toes in the sand with your new wife or husband, celebrating your anniversary with a celebrity-like fine dining experience, enjoying time in the spa with your friends, recording your own music video, or all of the above, the Hard Rock All-Inclusive Resorts has you covered.  It is way beyond food and drinks included that makes these resorts a one-of-a-kind, rockin' great stay!
Hard Rock Hotels currently has five all inclusive resorts, in Riviera Maya (where there's an adult-only option), Puerto Vallarta, Cancun, and Punta Cana. Your all-inclusive benefits at these luxurious resorts include meals at any of their many delicious restaurants, poolside drink and snack service, daily and nightly entertainment (and not the lame entertainment you may have experienced at other all-inclusives), in-room personal liquor dispensers (can you say rock star?), unlimited calls to the continental U.S. and Canada (so you can call all your friends and brag about the great time you are having), and much more. Multiple restaurants, state of the art fitness centers, a relaxing, luxurious spa, shopping, a salon, and 18-hole golf courses are a staple at each location. Multiple pools and white sand beaches are all part of the resorts, with most locations offering both kid friendly family pools as well as adult-only options.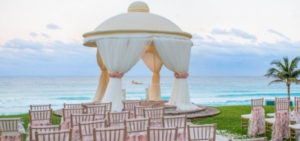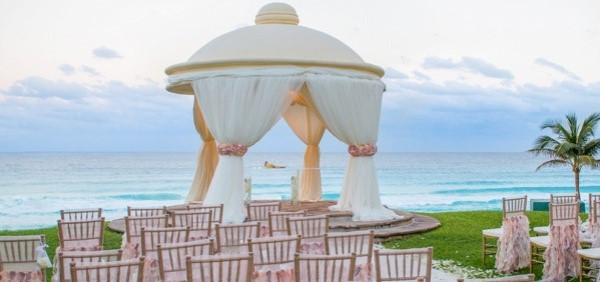 As you read, you are probably thinking, yes please!!!  What a great way to spend your Honeymoon, enjoy that girlfriend or guys getaway, any occasion really.  Imagine having your wedding at a Hard Rock resort. Your friends and family will never forget the experience of your Destination Wedding at a resort like a Hard Rock All Inclusive Resort.  Each resort offers several different wedding and honeymoon packages, and there are several private locations to have your dream destination wedding.
Just as any celebrity deserves, each wedding package comes with your own personal wedding specialist and a complimentary honeymoon package including a mini cake, champagne, honeymoon dinner, an in-room breakfast, and $1,800 resort credit to use at the spa, for upgrades, tours, or whatever your little heart desires.
Recently, we did a drawing to give one lucky couple a chance to experience all that Hard Rock  All Inclusive Resorts has to offer.  Be sure to check out our website to see who won!
Want to know how you can get on the next plane to this great vacation expereience?  Call us today! – Anywhere But Here Travel, Inc. 425-608-0266 – info@goabhtravel.com