I have booked a few trips already but this was my first with this particular vendor. It was a quick trip to Maui for me and a girlfriend to scope out some places to have my 20th Anniversary Vow Renewal. I have been researching and researching to find the best time of the year to go and then where to stay as well. There was no hurry in this because our date is set for December of 2016 but as I was looking at the price of airfare, I saw a dramatic increase after the end of Feb. Then based on other plans we have for that month, I quickly determined it had to be early in the month. Then I decided I should try to visit as much during the week since I assume most wedding venues and planners would be busy on the weekends.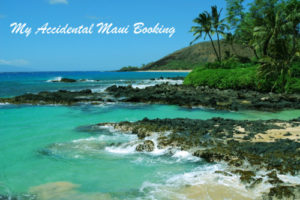 So, finally with some dates in mind (give or take a day depending on prices) I started looking up pricing on this vendor's website. It was late at night since that is when I usually have time to myself. I finally had settled on a hotel and what dates I thought would work the best. I even verified it with my girlfriend but she was okay with just about anything I picked. I went a little further in the booking process to see if there were any additional fees when I found myself on the confirmation page! Oops! I wasn't expecting that they would take my reservation without asking for a credit card! I quickly rushed into the room where my husband was playing a videogame and asked him quite sheepishly if I could interrupt him.
Me: Hi, I …. uhm … well … I was going to ask you if the dates I picked for Maui are okay with you but well … I sort of accidentally booked it already. 
Him: Oh? [He laughs] Accidentally? What dates?
Me: Feb 4-8th because I thought it would be better to have more time during the week. [We had discussed Feb 5-9 previously] It was on accident because I didn't think they would take my reservation without a credit card. I am sure I can cancel it if it won't work out but I think I should just go ahead with it since the prices were so good. 
Him: Sounds good honey. 
Yeah, I love that guy! I went into work the next day and told my boss what happened and she just laughed. She said it would make a good story later. So, I went ahead and paid for the trip and I was able to split the payment between my girlfriend's credit card and mine. We ended up paying less than $225 per person per day for airfare, hotel and car rental. This was for very nice flight times with no layovers, a nice resort in Kihei and a midsize car. I really liked that we didn't have to sacrifice anything for a fun little trip. Plus, it was all on accident too.😉

~Monica Hubinette~