France seduces travelers with its culture, elegance and flair. Images of stylish cafe terraces, village-square markets and lace-curtained bistros have captured the imaginations of American travelers for decades. It did mine as well. Our travel agent, Shawn, expertly directed us to fine cuisine, chic boutiques and priceless artistic treasures.
Paris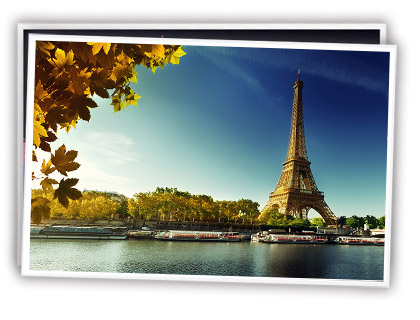 We started our tour in Paris, the obvious choice and why not? Paris is one of the world's major cities, with all of the culture that goes with it. Even though it is so big, it is so small. There's a real sense of community at the local shops, markets and cafes that hasn't changed in a hundred years. The first thing I did was something I've always dreamed of, taking a cooking class from a real French chef. This class was held in a private apartment, right in the heart of Paris! It was a small group of 8 people of many different nationalities. We learned how to cook a three-course Parisian banquet, receiving plenty of personalized attention from our knowledgeable French cuisine and food expert. We stayed at the Apostrophe Hôtel, a stylish little gem in the historic 6th district. It was close to everything and really quite affordable.
From Paris we headed south to the border of Spain. The Pyrenees track across southwestern France, separating Spain and Portugal from the rest of Europe. In the Languedoc-Roussillon region, these peaks are an ever-present backdrop. Behind the other main chunks of the south – Provence and the Côte d'Azur – the Alps ascend to snowy heights. The skiing here is legendary, but we chose something safer and warmer. We visited a group of little villages lining in the foothills – the lovely Villefranche-de-Conflent, and Céret in Languedoc-Roussillon. Nestled into a mountainside, Villefranche-de-Conflent is an 11th-century UNESCO World Heritage site.

Corsica
Jutting out of the Mediterranean Sea like an impregnable fortress, Corsica resembles a miniature continent. It has officially been part of France for more than 200 years but it feels different from the mainland in everything from the food to the language. 
Our first day there seemed like a good time to get in some typically touristy sightseeing. Set atop a lofty promontory, a massive fortified citadel offered breathtaking wraparound views from its five bastions. The citadel was built by the town's Genoese governors and over the years has fended off everyone from Franco-Turkish raiders to Anglo-Corsican armies.
Nice
On to Nice with its unusual mix of urban grit, old-world opulence, and year-round sunshine. Everyone imagines sitting at a cafe on cours Saleya in Vieux Nice, a bench on the legendary Promenade des Anglais or a smooth pebble beach for an epic sunset. The food options were limitless and the local arts scene was thriving. We could spend a week here and still want more. We stayed at a nothing-fancy hotel, Kyriad Bordeaux Bègles. It was close to the Tramway and bus, giving us direct access to Bordeaux town center. The rooms at Kyriad Bordeaux Bègles were modern, comfortable and under $200 a night. Kyriad's restaurant, La Table de Joséphine, was right next door. It served traditional French cuisine prepared with fresh and seasonal produce. (Another nice find, Shawn.)
Normandy
To the north is Normandy. It's rich and often brutal past is brought vividly to life by the spectacular island monastery of Mont St-Michel as well as the cemeteries and memorials along the D-Day beaches. Lower profile charms include a variety of dramatic coastal landscapes, lots of pebbly beaches, some of France's finest museums, quiet pastoral villages and architectural gems including Rouen's medieval old city, home of Monet's favorite cathedral. We couldn't visit Normandy without seeing Omaha Beach where the most brutal fighting on D-Day took place. Seven decades later, little evidence of the carnage from 6 June 1944 remains, except for the American cemetery and ominous concrete German bunkers. The current day Omaha is a peaceful, beautiful stretch of fine golden sand partly lined with dunes and summer homes. We followed the Circuit de la Plage d'Omaha, a self-guided tour along the beach marked with a yellow stripe.  We stayed in the Oscar Hôtel, a quaintly retro establishment that's very bright and open with a 1950's style. (Exactly what we were looking for Shawn, thanks!)
Brittany

The region of Brittany is for explorers. It is remarkably wild with a dramatic coastline, medieval towns, and thick forests. It's a bit off the beaten path but well worth the effort to get there. The entire region has a wonderfully undiscovered feel and thus, we tried to discover. We began with world-famous sights including the stunning St-Malo, regal Dinard and charming Dinan. Then we dove deeper into the other Breton gems including the little-known towns of Roscoff, Quimper and Vannes, the rugged coastlines of Finistère, and the Morbihan Coast. Upon completion, we enjoyed Brittany's other exceptional attributes – the delicious crêpes and homemade cider.
France was everything we expected and then some. Overflowing with style and elegance, it's everything in a European vacation you could want.