Santo Domingo
The Dominican Republic is a Caribbean nation that shares the island of Hispaniola with Haiti to the west. It is one of the Caribbean's most geographically diverse countries, with stunning mountain scenery, desert scrublands, evocative colonial architecture and beaches galore. 

We began our journey in Santo Domingo, or 'La Capital' as it's typically called. Amid the cobblestone streets, it would be easy to forget Santo Domingo is in the Caribbean.  With domino pieces slapping on tables, backfiring mufflers and horns from chaotic traffic, it's a long way from lush tropical forests and sandy beaches. I found this city to be a lot to take at first. It is an intensely urban city, home to hot clubs, vibrant cultural institutions, and elegant restaurants as well as colonial-era architecture. We stayed our first night at the Hostal Nicolas de Ovando Santo Domingo, a luxury hotel located in the Colonial quarter of Santo Domingo. With the favorable exchange rate, we were able to treat ourselves to this exceptional hotel for a very affordable price.
Eastern Coast
The eastern coast of the Dominican Republic  is here where the massive all-inclusive resorts dominate the scenic landscape. There are over 40,000 hotel rooms from Punta Cana to El Macao, luckily we were able to get one of them, thanks to our trusty agent, Monica.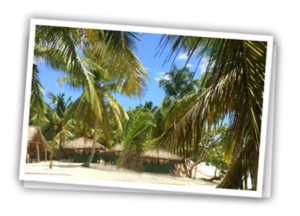 It truly is beautiful here. Soft, white sand and warm aquamarine waters make these beaches some of the best in the Carribean. On our way to the hotel, the cab driver raved about the snorkeling, so we decided to give it a try. A popular spot for snorkeling is the Marinarium, a natural offshore pool near Cabeza de Toro. It was a very exciting, if not frightening day. We saw rays, nurse sharks, and a multitude of colorful tropical fish.
Cabrera
On the north coast, east of Playa Grande is Cabrera, a tiny town filled with little stone houses with quaint flower boxes and well-kept gardens. Limited electricity so don't expect much of a night life, unless you enjoy stargazing, which we do.
Vamos a la Playa
There are plenty of little beaches nearby. Playa Diamante is a small beach with shallow water. Playa El Breton is great of snorkeling, which we did again (getting to be experts). A great find was Playa Entrada, a picture-postcard-worthy beach with privacy galore. Absolutely worth the effort to find.
Peninsula de Samana
Another must-see while in the Dominican Republic is Peninsula de Samana, a small slither of land in the southeast. It is absolutely the opposite of what you'd expect for that part of the country. Surrounded by massive resorts, this tiny oasis is far more laid-back and stylish. Samaná offers a European vibe reminiscent of France or Italy.
All in all, the Dominican Republic out there on it's own next to Haiti, might not seem like an ideal vacation spot. Well, all I can say is look again. This is a wonderful little gem in the middle of the Carribean. Sometimes quiet, sometimes overcrowded, but always satisfying.