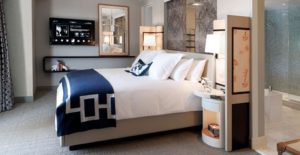 I just love spending the holidays in Las Vegas.  My husband and I drove down with our fur babies in tow, and stopped to see one of my dear friends along the way.  My long-time friends all got together to celebrate the holidays, which allowed me to see all my girls at once.  It is hard to get everyone together, especially around the holidays.
Another great touch to this trip is visiting some new hotels, inspecting the properties, and seeing what they have to offer my clients.  One of my favorite newer hotels is the Cosmopolitan.  It is absolutely beautiful, the location is perfect, and you just might run into a celebrity or two.
Oh, and my favorite room?
Happy Holidays!
-Andrea